The Depot Art Gallery is a successful, historic gallery and arts center with community spirit. The Gallery is housed in a restored Atchison, Topeka, and Santa Fe Railroad train station originally built in 1888. The station was retired in 1965 and relocated to its current location at 2069 Powers Ave., Littleton, Colorado. In 1979, a renovated 1890's caboose was added, which is now used as one of our galleries.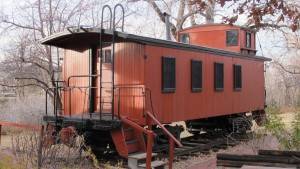 Admission is free.
There's plenty of free parking.
The premises can be rented!
The Littleton Fine Arts Guild
The Depot is owned by the City of Littleton, Colorado, and operated by The Littleton Fine Arts Guild whose purpose is to promote and advance fine art in the area. In 2017, the Guild celebrated its 55th Anniversary!
Historically, the Guild consisted of 10 women interested in painting and now membership consists of nearly 50, with men and women from all walks of life. Discover works by our skilled artists in almost any medium… including 2D and 3D…from photography to watercolors, oils to pottery, encaustics to jewelry…and more. The Depot Art Gallery is well known for its unique structure and the history present in every corner. Gallery Shows are regularly scheduled and most shows are "Juried," challenging the Guild Members to show their best work. In addition, there are frequent workshops, programs, and art classes. All artwork is for sale. The City of Littleton has created 360 Video views of our Gallery. You can view them on their website. Littleton 360: Depot Art Gallery
This video snippet of the Depot Art Gallery was produced by the City of Littleton as part of #sharelittleton.
History
Designated as an historic landmark in 1969, the Depot Art Gallery opened its first show in May 1978. View our Main Galleries in Panovision:
Additional Photos and Videos, here…
Learn more about our history and view old images of the Depot Art Gallery's here…