---
Summer Sizzle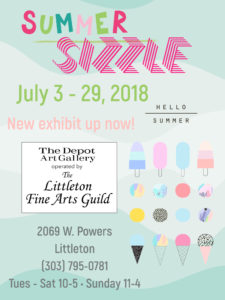 Summer is here and our artists are ready to show you their latest in summer themed artwork. Our Summer Sizzle show opened on July 3rd and runs to July 29th.
Please come on down to the Depot and check out our Summer Sizzle artwork. We will have paintings, photography, jewelry, and pottery, and woodworking art to name a few of our media types.
Congratulations to the ribbon winners for the Summer Sizzle show!
Best of Show – Pat Dall for 'Hung out to Dry'
1st Place – Larry Goodwin for 'Splish Splash'
2nd Place – Sheila Marie for 'Deep In'
3rd Place – Brian Serff for 'Sacred Datura'
Honorable Mention – Bill Brown for 'Waiting for Relief'
People's Choice – Stacey Roberts for 'Just for a Moment'
---
35th All Colorado Show at the Depot Art Gallery
The 35th Annual All Colorado Juried Art Exhibit will be held at the Depot Art Gallery from July 31 through September 9, 2018. The Exhibit is open to all Colorado artists and photographers. Nationally recognized, award-winning artist, Joan Kresek, will be the juror for the show and select the awards. The exhibit is free and open to the public. The reception and awards presentation will be held on Friday August 3th from 5:30 to 8:00pm. Refreshments will be served and Joan Kresek will present the awards and discuss the award winners. 
---
Our 2108 Plein Air Festival and Exhibit was a fantastic success. You can visit our Plein Air page to see our sponsors, artists and artwork.
---
The Depot Art Gallery
The Depot Art Gallery is a successful, historic gallery and arts center with community spirit. The Gallery is housed in a restored Atchison, Topeka, and Santa Fe Railroad train station originally built in 1888. The station was retired in 1965 and relocated to its current location at 2069 Powers Ave., Littleton, Colorado. In 1979, a renovated 1890's caboose was added, which is now used as one of our galleries.
Free to the public!
There's plenty of free parking!
The premises can be rented!
The Littleton Fine Arts Guild
The Depot is owned by the City of Littleton, Colorado, and operated by The Littleton Fine Arts Guild whose purpose is to promote and advance fine art in the area. In 2017, the Guild celebrated its 55th Anniversary! Historically, the Guild consisted of 10 women interested in painting and now membership consists of nearly 50, with men and women from all walks of life. Discover works by our skilled artists in almost any medium… including 2D and 3D…from photography to watercolors, oils to pottery, encaustics to jewelry…and more. The Depot Art Gallery is well known for its unique structure and the history present in every corner. Gallery Shows are regularly scheduled and most shows are "Juried," challenging the Guild Members to show their best work. In addition, there are frequent workshops, programs, and art classes.
Depot Art Gallery History Page
Designated as an historic landmark in 1969, the Depot Art Gallery opened its first show in May 1978. Learn more about our history and view old images of the Depot Art Gallery's here…