Depot Art Gallery, managed by the Littleton Fine Arts Guild, is located minutes from historic downtown Littleton CO.
Featuring the work of 60+ skilled local artists in a variety of styles and media.

Our Current and Upcoming Shows
61st Anniversary
May 16 – July 9
Reception Friday, May 19, 5 to 7 pm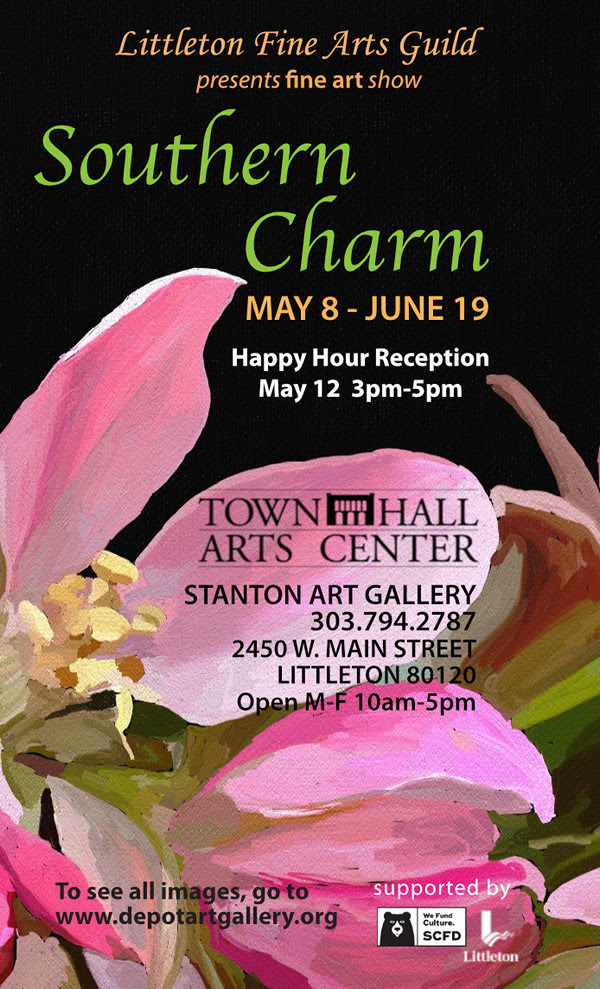 The 39th Annual Best of Colorado at the Depot Show
We invite you to enter our 39th Annual Best of Colorado at the Depot Show.
Original artwork by Colorado artists created within the past three years are eligible for entry. Our gallery is housed in a historical Depot building and the size of the artwork accepted will be limited. Two and three dimensional art, photography, paintings, collage, jewelry, sculpture, ceramics, fiber/textile, mixed media, wood, and glass are acceptable. Giclée prints of art and images produced by artificial intelligence (AI) programs are not permitted. If you have any questions, please contact us at BestOfColorado@DepotArtGallery.org
Upcoming Shows
Depot Art Gallery
61st Anniversary
May 15 – July 3

Being Human
July 5 – August 5

Best of Colorado
August 7 – September 10

Side by Side
September 11 – October 29

Holiday Boutique
October 30 – December 30
Stanton Art Gallery
Home on the Range
July 31 – September 10

Autumn Artistry
September 11 – November 5

Affordable Art III
November 6 – January 22,2024

Artist of the Month
Our members also participate in other offsite shows, like Nixon's Coffee House in Englewood, Smokin Fins Restaurant in Downtown Littleton and Vita in Littleton. Please see our Calendar & Events for more information.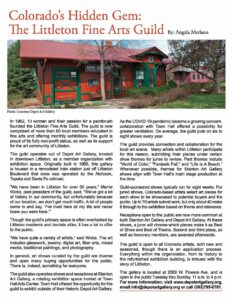 Depot Art Gallery was recently featured in the
Town Hall Arts Center SpotLight Magazine.
Read full article here
---