While we are closed we welcome you to browse through some of our artists work. We have paintings, pottery, jewelry, word working, and textiles. We feel it is fantastic!
---
Littleton Fine Art Guild
The Littleton Fine Arts Guild was founded in 1962 by 10 women interested in painting. Today, LFAG boast more than 60 members comprised of skilled artists, photographers and artisans.
Our members work in a broad selection of media: oil, acrylic, mixed media, watercolor, pastel, etchings, jewelry, silk painting, ceramics, glass, fiber, photography, sculpture, and wood. Throughout the year, members display their works in over a dozen juried and non-juried exhibits. Non-members throughout Colorado are invited to apply for entry into our annual All Colorado Show which has been exhibiting for over 35 years. We debuted our Colorado Aperture Show in 2018, a show exclusively devoted to photographers. It was a huge success and will also be an annual event. LFAG has several outside exhibit venues where members have the opportunity to show and sell their works. We offer high quality classes and workshops for continued education. Take your work to the next level or learn something new!
General Member Meetings are held once a month. The perfect time to bring members up-to-date on what's happening in the Guild. Members are encouraged to voice concerns and bring new ideas.
The Littleton Fine Arts Guild is an all-volunteer, not for profit organization.
LFAG is honored to maintain the historic Depot and Caboose Galleries and to play a vital part in cultivating and celebrating the advancement of the arts in our community.
Teri and Sheila in an interview with Gary Atencio of Consumer News TV.
The Depot Art Gallery
The Depot Art Gallery is a successful, historic gallery and arts center with community spirit. The Gallery is housed in a restored Atchison, Topeka, and Santa Fe Railroad train station originally built in 1888. The station was retired in 1965 and relocated to its current location at 2069 Powers Ave., Littleton, Colorado. In 1979, a renovated 1890's caboose was added, which is now used as one of our galleries.
• Free to the Public • There is plenty of free parking! • The premises can be rented!
Depot Art Gallery History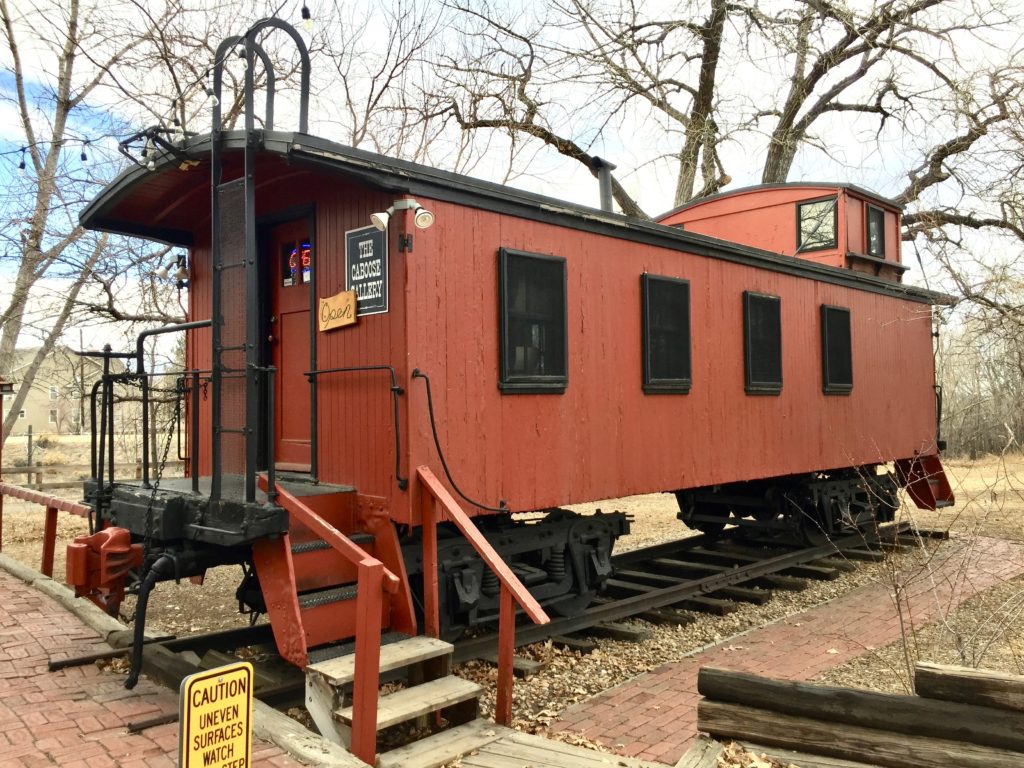 Designated as an historic landmark in 1969, the Depot Art Gallery opened its first show in May 1978. Learn more about our history and view old images of the Depot Art Gallery's here…