DRAW FROM LIFE PROGRAM – EVERY 2ND WEDNESDAY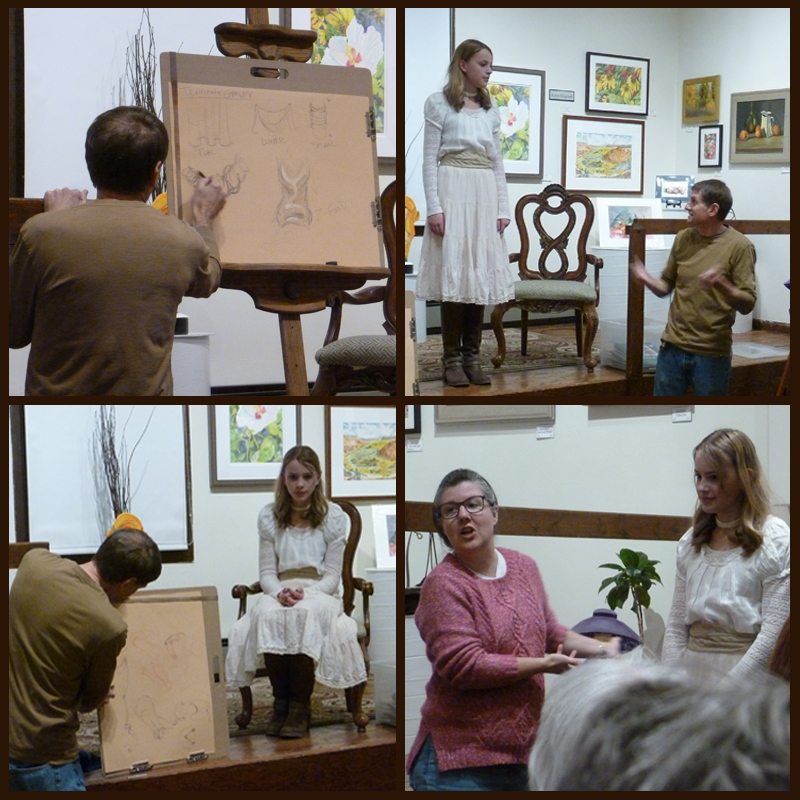 Time: 2nd Wednesday of the Month, 6:00pm* – 8:30pm
"Classes will resume in January 2018, no meetings from now thru the end of 2017."
Location: Depot Art Galley (unless otherwise noted)
Littleton Fine Art Guild Members: Free
Non-Members: $5.00
Free parking
Light snack provided
This series provides a live model (clothed) for fun and practice drawing; no instruction*. All artistic ability levels welcome. The program is geared toward adults. Bring your own art supplies. If using wet or messy art supplies please bring a drop cloth (plastic table cloth works) to use. We don't have specialized lighting; bring your own lights if you want them. A limited number of folding tables are available. We recommend bringing your own small folding table or easel if you need one. No reservations needed, just show up!
*Photographers get priority on use of the model for the first half hour (6:00 – 6:30 pm). At times, an instructor may be invited to attend, but it is not a regular event.
Children: Children participating as if they are grown-ups are welcome. An adult must be with children at all times; we have no staff available for supervising children. Please do not bring children who are not fully and happily participating in the art activity. It's OK to come for only part of the program.
Questions / RSVP: Contact: Cheryl Adams, mbadamsjr@msn.com
OIL PAINTING CLASS: MONDAYS
Mondays 1pm – 4pm
$30 per session (or $100 for 4 sessions*)
Instructor is Jennifer Riefenberg, Nat'l Award Winning Artist
The classes consist of on-going sessions with a new topic each week – similar to the Art Students League format. All levels welcome – we will be working on concepts that pertain to all levels of painting. Each student will have individualized instruction and feedback to help their own needs and at their level.
Sign up today! Drop-ins are also welcome, space permitting.
For more information, download the handout.
*must be used within 2 months